EDA Honors Women's History Month
Spotlight: Mara Quintero Campbell serves as Regional Counsel to EDA's Headquarters Office
March 24, 2016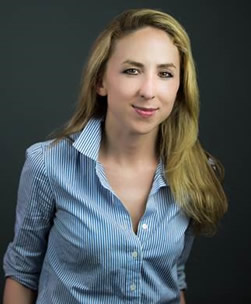 Every year since 1988, the President has proclaimed March as Women's History Month. For me, this past month has been an opportunity to reflect on three women who have taught me important lessons, impacted my personal and professional story, and helped shape the attorney I've become: my mother, my first professional mentor, and my legal role model.
My mother and father met in Quito, Ecuador in the mid-1970s. Their story is something out of romcom movie --my mother, a Midwesterner from Iowa, speaking little to no Spanish meets my father with equal levels of English. Love concurs all; they marry and have three kids.
In Ecuador, I spent most of my idyllic childhood running outside, taunting llamas, and eating tangerines off trees that grew in our backyard. But my mom wanted her kids to have more options available to them and saw the U.S educational system as the best way to access these opportunities. When I was ten, we moved to permanently to Anchorage, Alaska.
I can only imagine the impact such as dramatic move had on my parents' personal and professional lives. They left a support system of family and friends and moved to a place that was very different (not to mention is incredibly cold and dark most of the year).
To make the sacrifice worthwhile, my siblings and I were encouraged to pursue our intellectual interests and expected to work hard – and it paid off. I excelled in school, made my way to Bard College, and graduated with a law degree from American University, Washington College of Law.
My first job out of law school was in the Office of General Counsel at the Inter-American Foundation (IAF). The IAF is sort of like EDA for Latin America. It's a small, but mighty, federal foreign assistance agency that supports development projects.
During my first years at IAF I was mentored by the amazing Becky Verreau, who served as IAF Deputy General Counsel. From day one, Becky was incredibly generous with her time and professional wisdom.
Under her guidance, I spent the next few years immersed in all aspects of federal law. Time and time again she brought me into assignments that were well beyond my level. What's more is that she consistently demonstrated that she valued my insight and judgment. The variety of legal issues that I worked on with Becky has continued to open doors for me and has played a significant role in my success at EDA.
I've been successful at EDA because I love my job. Every day I get to work with smart and dedicated EDA staff on critical programs that impact communities across the country. Nothing is more empowering than seeing your work in action. At EDA, my work has meaning and that's incredibly fulfilling.
Becky taught me the value of collaboration, an attorney's duty of intellectual rigor, and the importance of respecting those around you. These values have made me a better lawyer.
Last year I read the autobiography of Supreme Court Justice Sonia Sotomayor entitled Beloved World. The book tracks the hard work, humility, grit, and brilliance of the first Latino to be appointed to the highest court in the land. It's also an honest account of the challenges women face when balancing career goals and personal fulfillment. As a Latina woman in the legal profession, I've often reflected and relied on the book's lessons when faced with professional challenges.
As part of this year's proclamation, President Obama stated "During Women's History Month, we remember the trailblazers of the past, including the women who are not recorded in our history books, and we honor their legacies by carrying forward the valuable lessons learned from the powerful examples they set."
I know that I would not be the woman that I am today without benefitting from the lessons my mother taught me, the powerful example set by Becky Verreau, and the legacy of Sonia Sotomayor.