EDA Honors Women's History Month
Spotlight: Eartha Ball, Investment Information Specialist
March 25, 2016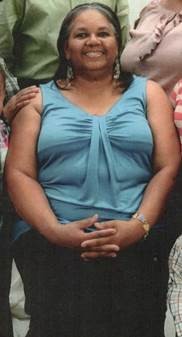 I was surprised and humbled when asked to spotlight my career here at the U.S. Economic Development Administration. My first thought was that I have not yet accomplished what I set out to do—get a college degree, and I most certainly have not reached the high goals I set for myself when I started work in the Federal Government. However, I am very proud and humbled first as a woman, a black woman in a male-dominated workforce that I was given opportunities to succeed and move beyond the status quo without a degree. Despite not meeting pre-set goals, I am right where I am supposed to be at this time in my life's journey.
Growing up in a large extended family in the Northern Neck of Virginia, I learned that you shared what you had to move the next generation forward. My grandparents had a family reunion every Sunday after church. The women, supervised by my grandmother, cooked large amounts of food and after everyone was fed, the remaining food, advice, and what little money they had was doled out to all the families needing it to make it through the next week. Both parents worked and instilled in their 12 children that hard work was the key to making it (success).,that you must rise early, show up at your appointed place—work or school, and make an effort to do better than you did the previous day. As the oldest child, I understood that it was my responsibility to set an example for my younger siblings. My parents set the tone for the family and I had to follow. My Mom got up early and went to work for 4-5 hours and came home and put on her 13 hats and worked some more. My Dad, a general construction worker for many years, worked his way up to supervisor/foreman (a job given few blacks at that time) of about 50 employees who helped construct a major upgrade of the old Blue Plains Sewer Plant. While in this position, he offered employment to every man from our community who wanted to work and he made sure they had transportation to get to work and other necessities until they were able to get a paycheck. Eventually, Dad retired from construction work and started his own successful business, but the lesson of giving back to the community was well received by his older children.
After I graduated from high school, I packed my luggage and headed up the road to DC. My job search was short and I started my Federal career at the Department of Labor during the Carter Administration where I stayed for 6 years, 6 months, and 20 days. Young and highly motivated, I saw endless possibilities for moving up the ladder as I looked around my workplace comprised of women in various leadership positions. I set my goal on moving to the top and enrolled in the upward mobility program and started earning credits at GWU and American University toward a degree. While pursuing my degree, I worked my way up from an entry-level position to the highest level I could go without a degree. The women in my office, who had completed the upward mobility program and were successful, encouraged me to take on additional responsibilities. I eventually assisted with the Displaced Homemakers and other pilot workforce training programs popular at that time and was on my way up the ladder. However, when Ronald Reagan was elected President, the Federal Government was downsized and all the upward mobility programs were cut. I was riffed in December 1981 and accepted a job three months later at EDA starting at the bottom as a clerk-typist.
Two things I noticed about EDA—it was full of old men and there was no upward mobility program. In fact, EDA was still in the typewriter era. I discovered later that we had two WANG word processors that no one knew how to use. Eventually, I and another employee were instrumental in getting EDA started with the computer by showing our supervisor the benefits of using the WANG versus the typewriter. Gradually, our office caught on to using the word processor and the rest is history. Despite all the obstacles that seemed to be blocking my path to the top, I devised a plan to get ahead. I read plenty of self-help books, took job-related courses, talked to people who had made it, worked hard, took on professional-level tasks, and generally set out to make myself indispensable hoping my supervisor would notice. I worked my way back up to secretary, but was driven to do more. I was already doing the work comparable to that of a program specialist, but was told that it was virtually impossible to cross over from the secretarial to the "professional" field without a degree. So, I took more grant-related training, and in the process, I learned how to streamline and simplify grant processing for my office. My persistence and hard work had paid off and I was promoted to program specialist.
In the mid-200's, EDA underwent a major reorganization and I was placed in the Legislative and Intergovernmental Affairs Division where I currently serve as an Investment Information Specialist. In this position, I provide support to the Director, who represents EDA to members of Congress, Congressional staff, other federal agencies, state and local elected officials, through all manner of written and verbal communication. I work with the Executive Secretariat team which is responsible for the management, coordination, and preparation of EDA-related formal correspondence for the signature of the Secretary/Assistant Secretary, the final processing and preparation of EDA grant notifications, EDD designations and modification actions, Freedom of Information Act requests, coordination and dissemination of Government Accounting Office and other EDA-related reports.
As my career comes to an end, I look back and reflect on the 40 years I've spent in the Federal Service and am very grateful for the opportunity to serve the American people. I am grateful for all the knowledge I've gained and the many people I've met whom have enriched my career. It pleases me that the next generation—my siblings, my two adult daughters, and now my three little grandchildren—are going forward with the torch and running with it in the spirit my grandparents, parents, and I intended. My advice to them is to keep moving forward, be persistent, work hard, show gratitude, set goals, work well with others, be honest, and say I'm sorry and ask how to make it right, and don't let people tell you that you cannot do something simply because it has never been done. Women are strong and we can do anything we want to do.
My motto is "there is a bright side somewhere—don't you rest until you find it." That said, going forward, I plan to apply my life skills, along with a few college credits to finally earn that degree.