EDA Honors Women's History Month
Spotlight: Linda Cruz-Carnall, Regional Director, Philadelphia Regional Office
March 28, 2016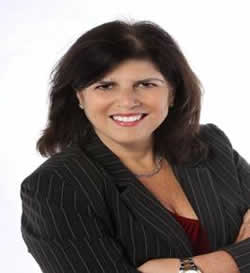 There is an element of synchronicity associated with blogging at this time on my work and career path at the U.S. Department of Commerce Economic Development Administration (EDA). On March 28th, I will celebrate 28 years with the Philadelphia Regional Office of EDA so in some ways, I AM living history here at DOC, part of the EDA institutional knowledge base. EDA is celebrating its 50th anniversary in 2016 and I am proud to carry the torch cheerleading for and at EDA, a DOC program that has invested and leveraged billions of dollars in its role as the only federal agency focused exclusively on economic development.

Public service at EDA has provided me with a tremendous opportunity for professional and personal growth. Innumerable complex programmatic, legal and financial challenges required close work and creative collaboration with talented colleagues and customers mutually focused on benefitting and growing communities and regions by fostering job creation and private investment throughout our nation. Nowhere is this premise more evident to me than it is in my new role as Regional Director of the Philadelphia Regional Office. Visiting EDA project sites and interacting with skilled professionals in the field to hear their stories and needs firsthand, exchanging ideas to develop new strategic responses, tracking progress of implemented projects, these are the creative force and lifeblood of economic development work.

EDA administrative planning grants of, on average in my office, $70,000 annually have continuously seeded urban and rural comprehensive economic development planning efforts known as "CEDS" in federal regions I, II and III. Created in 1965 under Lyndon B. Johnson's Great Society programs, EDA staff often looked upon the agency as the "little engine that could" in terms of its adaptability to meet changing economic conditions. EDA staff and leadership use EDA's discretionary tool kit to look ahead asking "what's next?" in the interest of regional and national success in the worldwide economy. EDA's recent Innovation and Entrepreneurial and Regional Innovation strategies(i6) lead the current dialogue with 21st century stakeholders and partners. Yet, an early motto which I recall and still consider motivational is simply, "EDA CAN DO".

If you are still reading, you might wonder as I often do, how the only child of a Cuban who immigrated to the U.S. in 1953 and his 1st generation Italian-American wife would study at the University of Pennsylvania, Villanova Law School and thereafter join the United States Commerce Department as an economic development/grants professional? The answer is simple: education, mentorship and the call to public service. My parents may not have realized at the time, but their decision to prioritize a solid educational foundation at a small all- girls religious day school in suburban Philadelphia exposed me to peers, teachers and parents who were formally and informally leading in service to others. The experience was impactful enough to me that I sent my own daughter to "Villa" many years later. Both she and I remain active within the alumnae community through mentoring of rising seniors in a recently-founded capstone project.

Another point of parental influence that dovetails nicely with EDA's support of entrepreneurship is the fact that both of my parents were small business owners and entrepreneurs. From a young age, working beside my mother on Saturdays at her hair salon or after school with my Dad in his luncheonettes ("Philly cheesesteak anyone?"), I learned first- hand key principles of work ethic, customer service, business reputation and relationship building. Possession of a "giving spirit" led my family to lasting friendships, business success and, most important, a rewarding and abundant life.

These principles have been instilled by my husband and me in my two adult children, my proudest achievement and greatest joy in life. Together, our family of four live by the simple quote: "To whom much is given, much is expected".

Women's History Month is a special time to reflect upon, celebrate and seek inspiration in the work and lives of women leaders among us. May I invite you to join me in the spirit of giving and abundance to light the torch for female colleagues at DOC and federal partner agencies? For it is their creativity, talent and collaboration that are essential to a promising nation and future for all.