EDA Honors Women's History Month
Spotlight: Sandranette Moses, IT Security Officer
March 29, 2016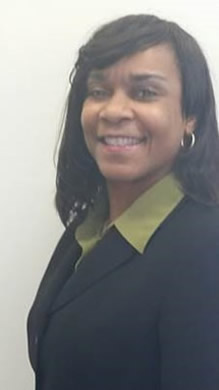 As EDA's IT Security Officer (ITSO) and Developer Team Leader, I ensure appropriate operational security posture is maintained for information systems and programs under the bureau's control. I serve as principal advisor to the bureau CIO and senior management and provide guidance concerning IT security issues, incidents and potential threats. I am responsible for developing and maintaining the bureau's IT security policies, procedures, standards, and guidance consistent with Departmental and Federal requirements. I also serve as EDA's representative on many Department working groups. As the Development Team Leader, I manage current applications by analyzing program code, assisting with trouble shooting problems, overseeing day-to-day tasks/activates, and developing new application. I have served as an ITSO and Developer Team Leader at EDA for over 15 years. From 2013 to 2015, I had the pleasure of serving as Acting Chief Privacy Officer (CFO) and Acting Privacy Act Officer. My career in the federal government spans over 27 years and one of the many reasons I enjoy working for EDA is because of the mission in creating and promoting economic growth for the underserved.
I am a native New Yorker, proudly raised in Brooklyn, NY. However, after my first year in high school, my family moved back to my mother's hometown of Portsmouth, VA. After many years of living in New York and Virginia, I developed a unique accent that has become the running joke amongst friends. They say when I am in a "laid back mode" my southern accent comes out and when I am not "too relaxed" my New York accent comes out. Growing up, my parents always instilled in me and my siblings the importance of academic excellence and pushed us to take advantage of our education. With this foundation, I earned a Bachelor of Science degree in Mathematics with a minor in Business Program from Norfolk State University. Today, I continue to seek to improve my skills and knowledge of the evolving IT industry through ongoing training, and have several professional certifications, including Oracle Developer, Oracle Database Administrator, Certified Information Security Manager (CISM), and ITIL Foundation.
Service is very important to me and a part of my personal life. I am involved in volunteerism as a member of Ebenezer AME church and Alpha Kappa Alpha Sorority. Also within my church, I am involved in the liturgical dance ministry and have served in many church leadership roles. I find great fulfilment as a member of Alpha Kappa Alpha Sorority because my personal commitment to service aligns with the sorority's mission to be of "Service to All Mankind" through its initiatives.
Whenever I meet with young people (especially young women) starting out in their careers, I encourage them to pick a career path in something they love. I believe if you are doing something you love, it makes your work easier and sustains you during challenging times throughout your career. I always encourage young people to accept internships and jobs working in a field they are passionate about, even if it's not their ideal position or level because it has the potential to lead to bigger opportunities. I urge them to do their very best in any task, role, or job they assume and often talk about the importance of working well with others along the way. I believe when you learn to work as a team member, it leads you to personal and team success. This especially holds true in the IT world and one of my favorite quotes that has proven true throughout my career reads:
Coming Together Is a Beginning
Keeping Together Is Progress
Working Together Is Success
In celebration of Women's History Month, I salute the generations of strong women that have come before me and whose shoulders I stand on. Extraordinary women like Harriet Tubman, Maya Angelou, my cousin Stanley Clark (lovingly known as Bee-Bee), my mother, and teachers along the way who have been instrumental to my success. I strive every day to make them proud and to be a good example to women coming after me of what you can accomplish with hard work and perseverance.