Spotlight: Economic Recovery an Inter-agency Effort: Economic Development Assessment Team to Deploy to Maine
August 2016 Newsletter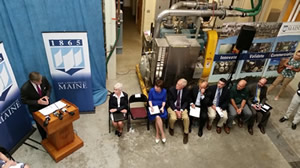 Deputy Assistant Secretary Matt Erskine announces $4.2 million investment and EDAT to Maine at the University of Maine.
Over the last several years, a number of Maine's major paper mills have closed, and thousands of hard-working Americans living in rural communities have lost their jobs.
In March 2016, Maine Senators Susan Collins and Angus King sent a joint letter to Commerce Secretary Penny Pritzker asking for support from the U.S. Department of Commerce to help address the deteriorating economic conditions.
In response, on July 29, 2016, the Economic Development Administration (EDA) announced more than $4 million to help diversify and grow the Maine economy, and shared the bureau will deploy an interagency Economic Development Assessment Team (EDAT) to eastern Maine in August.
Modeled after the National Disaster Recovery Framework, an EDAT enables EDA to marshal the full range of federal resources on behalf of a region experiencing economic distress. This tailored response has been used to address incidents like the Deepwater Horizon oil spill and the collapse of New England's fisheries.
From August 17-19, the EDAT will evaluate new and existing economic strategies to address the state's forest-based economic challenges.
During the three-day EDAT visit, regional leaders and economic development experts, alongside officials from federal partners — U.S. Departments of Treasury, Agriculture, Commerce, Labor, Transportation, and Energy; and the Environmental Protection Agency, the Small Business Administration, and the Northern Border Regional Commission — will participate in a series of economic development sessions, tours, and briefings.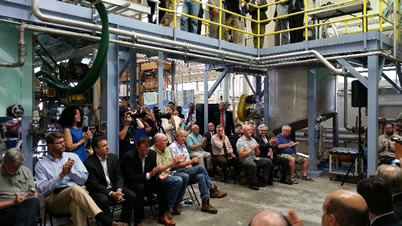 EDA grant and EDAT announcement to Maine at the University of Maine.
At the conclusion of the EDAT process, regional and local stakeholders will have a bottom-up strategy, developed with input from the federal partners, designed to foster robust economic growth and recovery.
The EDAT Approach:
Focuses on Interagency Work – bringing together agencies across the federal government to focus their work and build relationships and understanding the region.
Accelerates Community Planning and Action – convening local stakeholders with diverse interests in the community to streamline the ongoing planning process.
Applies Best Practices - leveraging best practices for economic development and diversification to mitigate economic impacts of industry change and mill closures.
Provides Action-Planning for Economic Recovery - exploring culturally and economically compatible strategies for diversification.
Understands Currently Available Support - familiarizing participants with applicable federal, state, local, and private programs that can be used to support economic development efforts.
Provides Collaborative Technical Assistance - working collaboratively with communities to leverage technical assistance resources to support local planning initiatives.