Success Story: TruFund Accelerates Innovative Programs in Louisiana
August 2016 Newsletter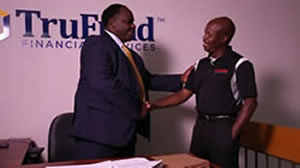 TruFund supports minority and women owned contractors.
The Economic Development Administration (EDA) awarded TruFund Financial a $500,000 EDA funded/$500,000 match grant in 2014 to assist with small business development and growth in Louisiana.
In its two-year grant period, TruFund has launched a variety of projects which support minority and women-owned contractors in distressed areas of the state, with concentrations in the two largest metropolitan areas: New Orleans and Baton Rouge.
Contractor Support Center, which houses shared technology and software such as RS Means, Plan Swift and Dodge Report, along with personnel to provide hands-on, one-to-one technical assistance to increase efficiency and competitiveness. The training and education provided regarding the use of these software applications allows contractors across the state to more effectively bid and obtain contracts in the private sector and at every sector of government. As a result of this program, participating contractors have procured millions in contracts.

Contractor College is another program TruFund was able to develop and implement with funding from EDA. Contractor College's participants attend up to 14 workshops training in an industry specific curriculum. The curriculum includes access to capital, bonding, estimating, bidding, scheduling, project management, and business planning for contractors. The success of this program boasts to date more than $12 million in bonding secured by class participants.

TruFund also established the East Baton Rouge Business Academy and the Contractors Boot Camp, which are abbreviated versions of the Contractor College curriculum that are developed to address specific needs within the East Baton Rouge market. These trainings culminate with a pitch competition among the participants. During the pitch, participants must demonstrate their knowledge of the concepts taught and their ability to effectively apply those principles to their respective businesses. Businesses who are able to successfully identify the gaps of their business, receive a consulting grant to receive additional industry specific services in the area of need.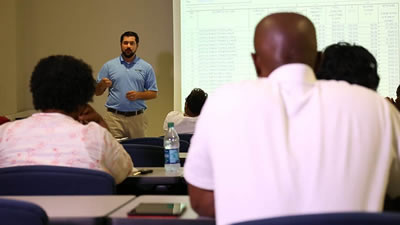 TruFund's Contractor Support Center training.
TruFund has served as a leading stakeholder in previous economic development projects in Louisiana, partnering with EDA among other organizations such as the U.S. Department of Transportation's (DOT) Small Business Transportation Resource Center, and Louisiana Economic Development and Small Business Development Centers, to host workshops that educate contractors about bonding and access to capital in order to compete for contracts on federal projects, such as the Louis Armstrong International Airport.
"Often times our contractors understand their trade, but do not fully understand the details of daily operation and management of their business," said Myla R. Poree, Vice President/Managing Director of TruFund's Louisiana market. "We help them where there are gaps."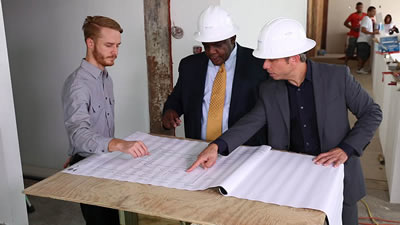 TruFund loan officer with client.
Trufund has loan programs and comprehensive business development services all designed to support and facilitate the growth and procurement opportunities for contractors. In addition to the comprehensive contractor training programs, TruFund currently offers Contract Mobilization Loan Program.
"TruFund has a very good niche of taking care of the needs of smaller contractors," said Tony Arps, Project Director of DOT's Small Business Transportation Resource Center. "Sometimes the banks just can't do that and TruFund is the kind of organization that can sit down with a small business owner and provide the technical assistance they need to grow their business."
With offices in New York, Louisiana and Alabama, TruFund has remained a strong advocate for small business owners. Through TruFund's Contract Mobilization loan program, contractors have recently been able to successfully mobilize more than $25 million in contracts.
"Providing small businesses with the opportunity to grow their business and create jobs will always remain our top priority," said James Bason, President of TruFund Financial Services, Inc.
TruFund is an example of the wider trend of cooperation in Louisiana between public and private sectors to accelerate innovative programs which seek solutions to existing and emerging gaps in the economy.