Spotlight: Manufacturing: The Backbone of the U.S. Economy
October 2016 Newsletter
Julie Wenah is a Policy Advisor at the Economic Development Administration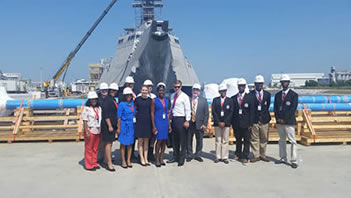 EDA Deputy Assistant Secretary Matt Erskine and EDA Policy Advisor Julie Wenah pose for a photo with manufacturing students at Austal USA in Mobile, Alabama.
Manufacturing is the backbone of the American economy.
Our ability to innovate and create products, tools, and services that transform the way we live and operate is essential to our national competitiveness.
In 2013, President Obama tasked the Economic Development Administration (EDA) with creating a program that recognizes the resurgence of U.S manufacturing and incentivizes communities to operate within a region to leverage local assets to become globally competitive. As a result, the Investing in Manufacturing Communities Partnership (IMCP) program was born.
My background is in intellectual property and energy/infrastructure in Africa, so when I joined EDA nearly two years ago, I was excited to delve deep into the world of manufacturing. It has been quite a ride.
The best part of leading this initiative is getting to work alongside talented federal partners across the country and 12 other federal partner agencies to support manufacturing communities.
I speak on behalf of EDA's federal partners when I say that our favorite part of this initiative is working alongside amazing manufacturing communities who have termed us their "Best Friends Forever." We operate as a family - there is no 'you' and 'us' between the federal government and manufacturing communities. We work collectively to enhance and improve the economic development climate in these communities.
Another great example of collaboration is when Deputy Assistant Secretary Matt Erskine traveled to communities on the West Coast/Rocky Mountain region. He visited a bike factory in Utah, after visiting a composite recycling center in Washington the day before. Utah was looking for ways to discard scrap from bike manufacturing and Deputy Assistant Secretary Erskine was able to connect the factory and recycling center with one another.
On October 7, we celebrate the 5th Annual Manufacturing Day, or as we like to call the month of October here at EDA, "Manufacturing Month."
EDA leadership will continue to travel - to manufacturing communities to amplify the partnerships and collaborative efforts catalyzing change in regions across the country.
Throughout 2015 and 2016, EDA, along with 12 other federal agencies, have traveled across the country in the IMCP Manufacturing Tour. This tour has given federal leadership the opportunity to engage directly with manufacturing communities - including manufacturers, educational institutions, state and local officials, and economic development organizations - and to see firsthand the impact of investments on the ground and discuss challenges and creative solutions to remedying those challenges.
These visits have been impactful and have meant a great deal to manufacturing communities. In the Southwest Alabama region, the community shared how the visit of Assistant Secretary Jay Williams was important to the self-esteem of the community and has effectively brought together the rural and urban communities within that region.
There are many challenges in U.S. manufacturing particularly around workforce development and the lack of skilled workers. I am a proponent of continuing education formally and informally. We are all constantly learning and growing. There are a variety of great paying manufacturing careers that many people are not aware of or have been exposed to. Some often say experience is the best teacher, but I truly feel exposure is the best teacher. There is no better way to become knowledgeable about opportunities and pathways without hearing it and seeing it from manufacturers, state/local officials, educational institutions, and economic development organizations.
Here at EDA, we are taking steps to support manufacturing communities in achieving that greater goal. I am hopeful that through regional collaboration and multifaceted partnerships our nation will take its rightful place as the global leader in manufacturing.
Read below for recent manufacturing success stories in the Southwest Alabama.